It's late Sunday night. I'm drinking my chai tea (ahhhhh) and reflecting on what today has offered. Sunday's are always my day to re-center, re-group, and re-organize the upcoming week. But this Sunday was different. A bit extraordinary and ordinary. Yes. That is how it can best be described.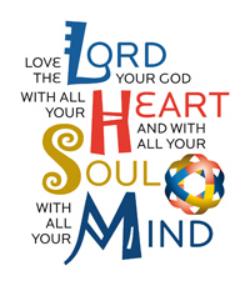 This morning we discussed God's greatest commandment in Sunday school class. Reading this part of Mark, reminded me of what this life is all about. Jesus amazes me in this passage when he was asked by the Jewish people what the most important commandment is. His response-- impeccably simple- yet so thorough--- "Hear, Oh Israel, the Lord our God, the Lord is one. Love the Lord your God with all your heart and with all your soul and with all your mind and with all your strength." (Mark 12:29-30) We had a great discussion about these profound words that we so often forget. After Sunday School, Daniel and I were sitting in the sanctuary, getting ready for service to begin and I pulled my Bible from my bag and noticed a book called,
The Art of Loving God
, that Ginni Poole gave to me a few Sunday's ago. I had not had the chance to read much of the book yet, but a little voice said, "Open up the book, and look inside." I wasn't sure why I felt the need to read it, but I did. I opened the front cover and began reading the introduction on the inside sleeve. Right in front of my eyes, sat the same scripture we had just discussed. Coincidence--- I think not. God was there, right in front of me, talking to me, encouraging me with his greatest commandment.
As I walked away from church, I wanted more. I wanted him to knock on my door at home, have a cup of tea, and teach me more about his greatest commandment.
This made me wonder how often am I aware. How often am I oblivious to His calling? How often do my own pleasures keep my from growing closer to him?
This week my prayer is that I can experience more of this Great Commandment. What does it look like? What does it sound like? What does it feel like? As you begin your week, think about these questions. Ask yourself, "What am I really trying to accomplish? What actions characterize me? Does my thinking lead to problems or solutions?"
Be blessed my friends!
I appreciate all your comments-- please keep them coming!